Be Safe, Secure and Protect Your Asset
In many residential suburbs and commercial areas, security of your family, private and company assets is an issue. Most people, who were victim to burglary or even aggravated burglary, still carry a feeling of insecurity or worry even years later. Some are traumatised over long periods of their lives. Put simply: An aggravated burglary occurs if one or several persons are in the house/ building at the time of the burglary, when an armed burglar (with a firearm, imitation firearm, any offensive weapon or explosive) enters the property knowing that people are in the building.
Burglary statistics
Residential Burglary
In Victoria alone the recorded burglaries and aggravated burglaries are increasing. From 2011 to 2012 alone, aggravated burglaries in Victoria have increased by 16.3% – from 2,163 to 2,516. In the same period residential burglaries have increased by 6.2% – from 27,519 to 29,235 cases. Overall, this results to 838 cases per 100,000 population; this means almost 1% of Victorians (including business owners, etc) per year fall victim to burglary on average. Unfortunately, the situation all over Australia is equivalent to Victoria, basically increasing the total numbers on an equivalent ratio.


Aggravated Burglary
Whilst the total value of stolen items during burglaries in Victoria sums up to more than 100 million dollars (!), the real problems are the emotional damage suffered by victims and the loss of dear, meaningful items and intellectual property stored on stolen computer hardware, cameras and the like. Victims of burglary, especially aggravated burglary are traumatised for years, sometimes for the rest of their lives. Being victim leaves at least the feeling of insecurity of your assets and belongings or keeps a threat to the business in the back of business owner's mind.
Other Burglary
Burglars are mostly attacking, when the property is vacated. Residential properties are mainly targeted during the day, when tenants and owners are at work or left for other reasons. Aggravated burglaries and "other" burglaries ("other" are e.g. against businesses, institutions, etc) are mainly committed at night. Please click on below pictures to see graphic presentation: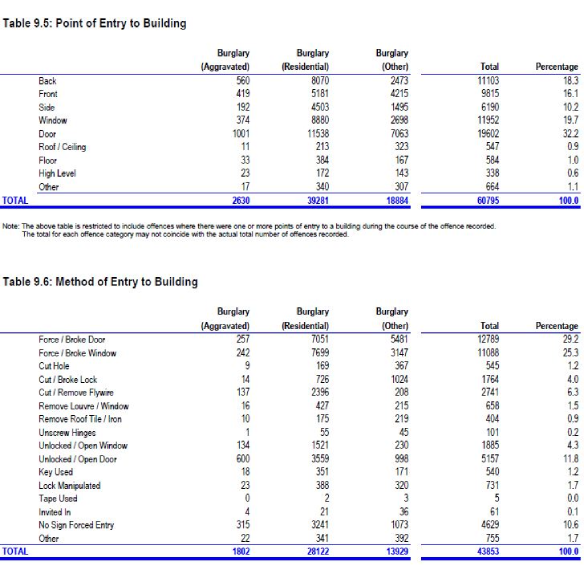 Point of Entry
Crime statistics Victoria shows that in 85-96% of burglaries, burglars are using doors and windows as point of entry. Clicking on the graphic on the left shows that forcing open/ breaking doors and windows are main means of entry followed by unlocked and open windows, broken/ manipulated locks, removed/ cut fly wires and windows/ louvres, etc. In 10% of the cases, no sign of forced entry was visible, which is likely to be caused by using sophisticated tools on weak or low quality locking systems, framing, etc.
Please find the above as well as more detailed statistical information, following below link: https://www.crimestatistics.vic.gov.au/
How can I stop burglars?
Increased and more focussed police work and changes in sociodemographic circumstances are a way to reduce the overall problem long term. As this cannot easily be initiated and implemented by individuals or businesses, it is important to secure the point of entry of your building. This means installation of high quality, secure windows and doors, being equipped with strong framing, secure/ safe glazing, solid-core materials, sophisticated multi-point locks, security roller shutters, hardware and fittings, etc or even security grilles and doors, etc.
Sustainable Construction Services provides exactly the hardware and the tools to make your home and business a safe haven, so you and your family will be and feel comfortable and safe. Our products are burglary-preventive and will increase the security and safety in your building; protect your family and assets now and in the future. Technology supplied and installed by SCS is that advanced and sophisticated that burglars are not able to get past this security barrier. The intruder and anti-burglary protection provided by SCS is shown below – Please you click on below images: